Our Products: Automatic Gasoline Nozzles
Select a product on the left for more information.
HV Breaktime Breakaways

Safety Comes In All Sizes!

Made In The USA


Download a spec sheet.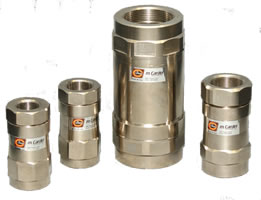 The HV Breaktime breakaway couplings were designed to provide protection for the equipment at HIGH CAPACITY Fueling Locations. This includes Mining operations, Marinas, Truck and Bus terminals, off road refueling fuel oil delivery as well as many industrial sites.
The HV BREAKTIME utilizes the same break ring technology and ball check valves as the service station and truck stop models. The HV breakaways have been in continuous production for over 20 years. Easy to repair on site.
The HV Breaktime breakaways are available in four sizes: AB14 - 1 1/4", AB15 - 1 1/2 ", AB2-2" and AB3-3".
M Carder Performance Advantages
Unique Brass break Rings: provide consistent separation force
Ball check valves: Seal both halves instantly upon separation no fuel loss
Dry break coupling: NO fuel is lost during reassembly, the two halves seal before the check valves open.
Nozzle Specifications
Construction Specifications

AB14
AB15
AB2
AB3
Inlet: NPT or BSPP
1 1/4"
1 1/2"
2"
3"
Check valve:
Teflon
Seals:
Viton
Break Rings:
Break force
400 lbs.
400 lbs.
500 lbs.
1000 lbs.
Weight:
1.1 lb.
1.1 lb.
1.8 lb.
4 lb.
Length:
9"
9"
10"
14"
Working pressure:
50 PSI max

Body & Ring Cover: Machined solid Aluminum aluminum bar stock &nickel plated

Break Rings: Brass/Thickness determines the break force

Breaktime repair kit**: brass ring, 2-"O" rings, cover, spacer, retainer

* Cold Climate Seals Available
Shipping and packing

The HV Breaktime breakaways are individually boxed.

Download a spec sheet.
© M. Carder Industries · 1634 Manufacturers Drive, Fenton MO 63026 | Phone: 636-343-8770 or Toll-Free 1-888-814-0094