Our Products: Swivels & Breakaways
Select a product on the left for more information.
Breaktime Breakaways

For Gasoline and Diesel Fuel

Made In The USA


UL listed for use with gas 10% ethanol blend and diesel.


Download a spec sheet.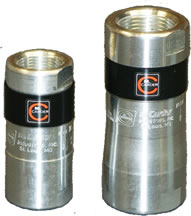 Model AB34 - 3/4" Model AB1 - 1"
The Breaktime breakaway coupling provides protection for the dispensing equipment at the service station. In the event of a drive away, the Breaktime breakaway will separate , the check valve in each half will seal instantly and prevent fuel from escaping. The Breaktime breakaways are available in a 3/4" model for gasoline and a 1" model for diesel. Both utilize the unique break-ring design to provide consistent and reliable performance at a low cost. M. Carder has been making these breakaway couplings for over 20 years. The compact lightweight design and ease of repair has made them very popular.
M Carder Performance Advantages
Unique Brass break Rings: provide consistent separation force
Ball check valves: Seal both halves instantly upon separation no fuel loss
Dry break coupling: NO fuel is lost during reassembly the two halves seal before the check valves open.
Nozzle Specifications
Construction Specifications

AB34
AB1
Inlet: NPT or BSPP
3/4"
1"
Check valve:
Nylon
Seals:
Viton
Break Rings:
Break force
300 lbs.
300 lbs.
Weight:
.33 lbs.
.48 lbs.
Length:
4.5"
5.5"
Working pressure:
50 PSI max

Body: Machined from solid bar stock

Ring cover: Nylon Integrated

Break Rings: Brass/Thickness determines the break force

Breaktime repair kit: 2 brass rings 2-"O" rings, cover, spacer, retainer

* Cold Climate Seals Available
Shipping and packing

The Breaktime breakaways are

individually boxed and packed 25

per master carton.

Download a spec sheet.
© M. Carder Industries · 1634 Manufacturers Drive, Fenton MO 63026 | Phone: 636-343-8770 or Toll-Free 1-888-814-0094